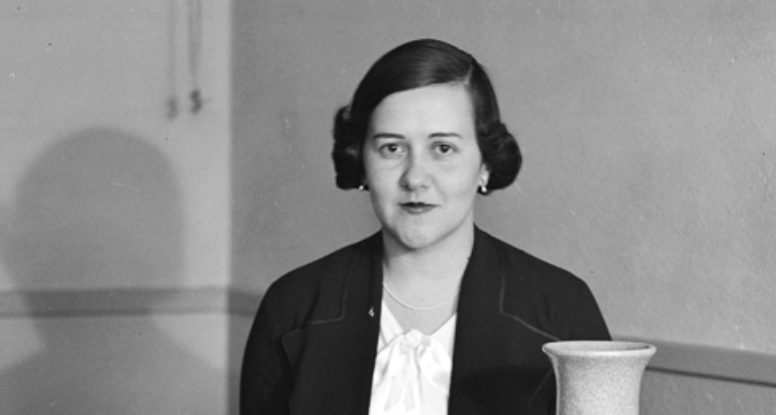 Anna-Lisa Thomson
1905–1952.
Potter, painter.
Anna-Lisa Thomson studied at the Higher School of Art and Design in Stockholm from 1924 to 1928 and then in Italy, Austria, Prague and Dresden.
Between 1928 – 1933 she worked at S:t Eriks ' factory in Uppsala and designed tea sets in green glazes and ceramic objects with Reliefdekor. In the middle of the 1930 century Thomson came to Upsala Ekeby and worked there all his active life.
Primarily, Thomson created art goods in various ceramic materials with clean, often nature-inspired, decorative elements. Among the most famous works are the Vase Paprika (1948) which was performed in various shapes and sizes and the urn Lancet (1949). Thomson is represented at the National Museum and several other museums.
She also painted, and the works were often nature inspired with motifs from the west Coast where she spent parts of the year. Posthumously, the book echoed by days of Light Timbre (1953) with poems and illustrations by Anna-Lisa Thomson was published.
Burial site: 0318 – 1310
Image description: Anna-Lisa Thomson with ceramics, Uppsala 1937. Photo: Gunnar Sundgren / Upplandsmuseet. [The image is cropped]
Click here for an uncropped image