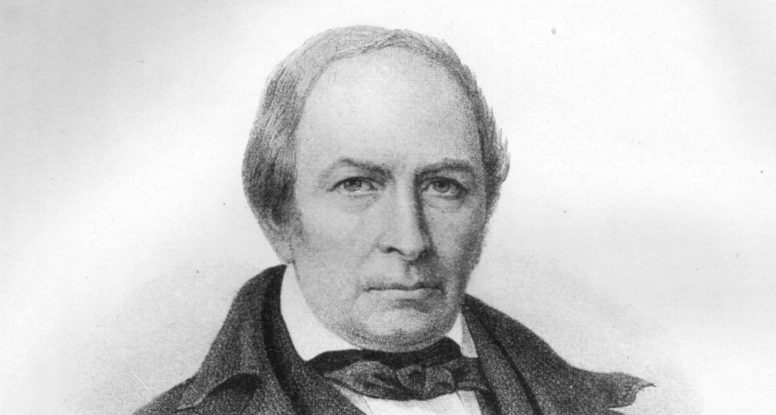 Erik Gustaf Geijer
1783–1847.
Historian, philosopher, author and composer.
Erik Gustaf Geijer, one of Uppsala's most important cultural personalities, was born at Ransäter in Värmland and came as a student to Uppsala in 1799. As a tutor he resided in 1809–1810 in England, where he attentively observed social and cultural life.
Geijer's understanding of the intellectuals' criticism increased during a trip to Germany in 1825 and against the fantasies of romance he began to take a more realistic stance. This he expressed in memories (1834).
Geijer recognized the importance of the middle class in society and the legitimacy of its requirements for freedom, and as a result of the changed social analysis, a political reorientation was removed from conservatism. This "waste" he announced in 1838.
Geijer's ability to see and formulate essential contexts in his contemporaries made him a strong voice in formation of opinion. His most important works include Svea Rikes Hävder (1825), which portrays Sweden's oldest history and the history of the Swedish folkets historia (1832–1836).
Geijer was a full-gloss lecturer, in-depth scientist and one of the leaders in the literary circles in Uppsala in the 1830s. He was also the center of Music life, and composed songs, piano sonatas, string quartets and other instrumental music.
Erik Gustaf Geijer was professor of history in 1817–1847 and became a member of the Swedish Academy in 1824. He lived on Svartbäcksgatan 17 and then moved to the Övre Slottsgatan 2. In 1846 Geijer moved to Stockholm.
The following is taken from the poem "Night sky" from the Collected Writings, vol. 1-13 1849–1855.
Alone I proceed forth on my path,
Longer and longer stretches the path;
Ah, in the distance, my goal is hidden.
The day itself lowers. Space becomes nocturnal.
Soon only the eternal stars I see.

But I do not complain the fleeing day,
Not me the night terrifies;
For of the love that goes through the world,
Fell also a streak into my soul.
Burial site: 0104-0248
Image description: Erik Gustaf Geijer, lithography from the 1840's. Photo: Wikimedia Commons. [The image is cropped]
Click here for an uncropped image