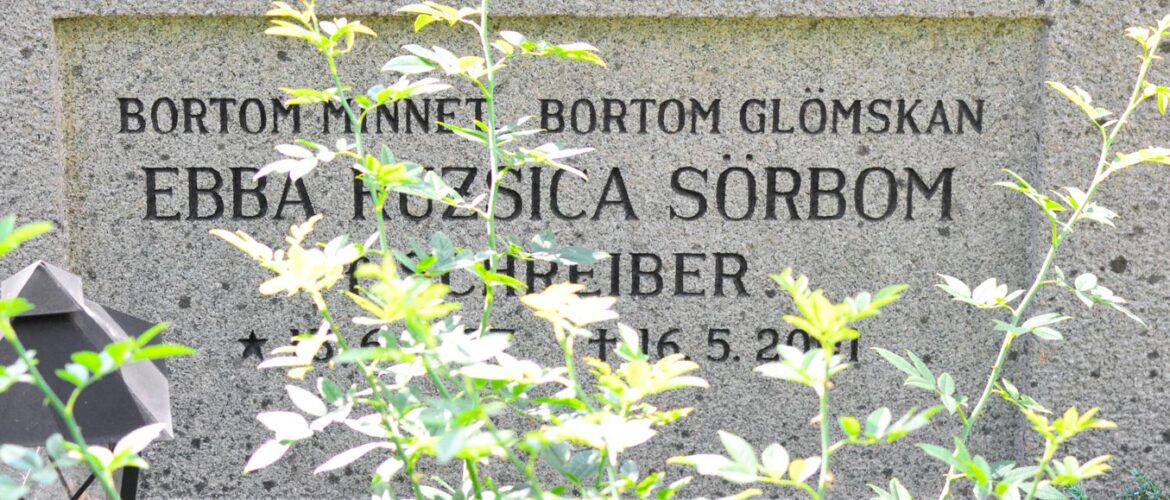 1927 – 2001.
Author.
Ebba Ruzsica Sörbom was born as Ruzsica Schreiber in a Jewish family in Novi Sad, former Yugoslavia. As a child, she spoke German, Hungarian and Serbian.
In 1944, Sörbom was taken to concentration camps where her mother and younger brother were killed in the gas chambers. After all, Sörbom survived Auschwitz and Bergen-Belsen and came to Sweden in 1945.
She studied drama at Uppsala University, worked with drama therapy at Ulleråker Hospital and informed about the Holocaust in schools.
In 1994 Sörbom received a cultural scholarship from the municipality of Uppsala and in 1997 a scholarship from the Writers' Foundation to study at the Simon Wiesenthal Center in Vienna.
The debut book "Bortom minnet, bortom glömskan" came out in 1988. Ebba Sörbom has, through her poetry, portrayed personal memories of the concentration camps and given voice to the survivors.
Burial site: 0104-0266
Image description : Ebba Sörboms Gravsten. Photo: Henrik Zetterberg. [No photo of Ebba Sörbom found when the page was made]