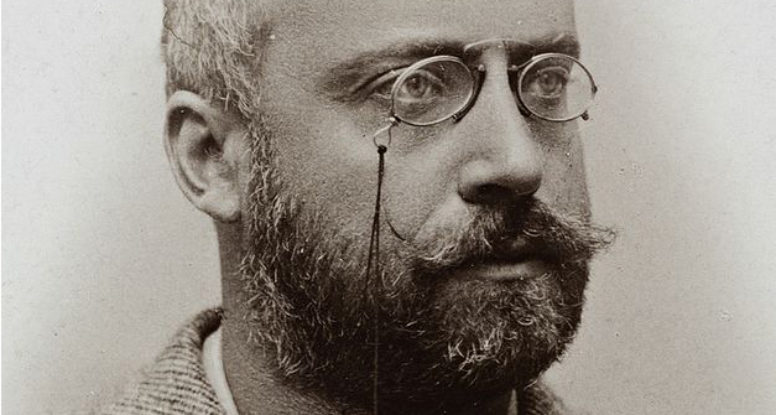 Gustaf Fröding
1860–1911.
Poet, writer.
Gustaf Fröding was born at Alsters Manor in Värmland and was through his family deeply anchored in the life of the mill and manor. He came to Uppsala in 1880 and lived on Övre Slottsgatan 13 and completed one single exam. Fröding joined the radical circles of the association Verdandi and wrote parodic poems and comrades songs.
He returned to Karlstad where he, after writing notices in various newspapers, was employed at the Karlstad newspaper. An inheritance in 1888 resulted in financial independence and Fröding left his employment.
Between 1889 and 1890 Fröding resided on a treatment establishment in Görlitz due to mental illness. There he experienced his first major creative period, when the main part of his debut poetry collection Gitarr och Dragharmonika was completed and made him the most important poet in Sweden.
The following examples of fröding poetry, called "in the Youth", are taken from guitar and Dragharmonika, 2nd ed. From 1893:
It sparkles so sparkly and beautifully in the river,
It chirps so funny in the pine.
Here I lie lazy, like a spoiled son
In the lap of my mother nature.
It sings and smells and shines and smiles
From Earth and heaven and all I see.

It is as if the wind has a message for me
If happy days, which are approaching,
My blood is in concern, I think I'm in love
— In Whom? — Ah in all that breathes.
I wanted everything in the heaven and the Earth
Was close to my heart in the shape of a girl.
In 1894  Nya dikter was published and in 1896 Stänk och flikar. However his health deteriorated and Fröding was hospitalized at Ulleråkers Hospital in 1896–1905.
Gustaf Fröding Died on the 8 February 1911 and was buried at the old cemetery in Uppsala the 12 of February. After the burial in Klara Church in Stockholm, the coffin was taken with special trains to Uppsala. Archbishop Nathan Söderblom said in his speech the following words at the coffin:
"Three small books came out – and a whole language has sorrow".
Many of Uppsalas people met up when train arrived in Uppsala. Then the coffin was taken, wrapped in the light of torches in the winter twilight, to the cemetery. Erik Axel Karlfeldt spoke at the grave.
Burial site: 0157-0504
Image description: Gustaf Fröding, 1896. Photo: Heinrich Osti / Wikimedia Commons. [The image is cropped]
Click here for an uncropped image