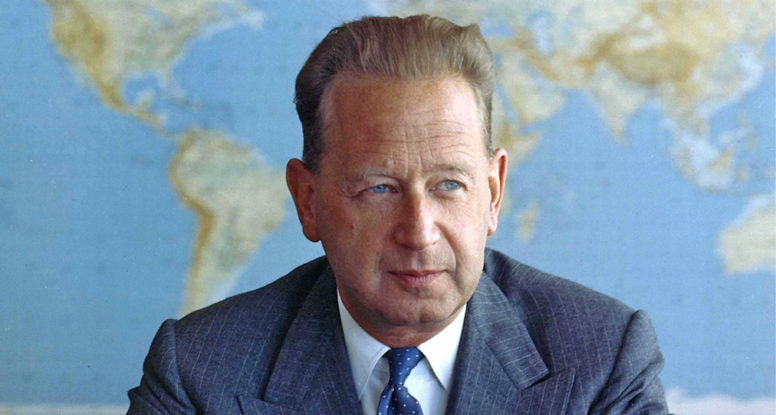 Dag Hammarskjöld
1905–1961.
Secretary-General of the United Nations.
Dag Hammarskjöld grew up in Uppsala where the father, Hjalmar Hammarskjöld, was governor. During the years 1936–1945, Hammarskjöld was secretary of State in the Ministry of Finance and transferred 1946 to the Ministry of Foreign Affairs.
From 1947 to 1948 he was a Swedish delegate to the OEEC negotiations, cabinet secretary from 1949 to 1951 and consultative government minister from 1951 to 1953. Hammarskjöld was elected unsecretary-general in 1953 and the following year, he succeeded his father as a member of the Swedish Academy.
Hammarskjölds leadership skills were necessary to streamline the complex UN organization and with his personal integrity, diplomatic prowess and striving to realize the UN idea, he was given authority to the mission as Secretary-general.
Dag Hammarskjöld died in 1961 in a plane crash in Northern Rhodesia (now Zambia) and was posthumously awarded the Nobel Peace Prize the same year.
His diary entries entitled Road Signs were published in 1963. In the chapel of peace in Uppsala Cathedral there is a memorial stone with the inscription:
Not me without God in Me Dag Hammarskjöld 1905–1961.
Burial site: 0116-0834C
Image description: Dag Hammarskjöld, 1959 New York, USA. Photo: United Nations [The image is cropped]
Click here for an uncropped image