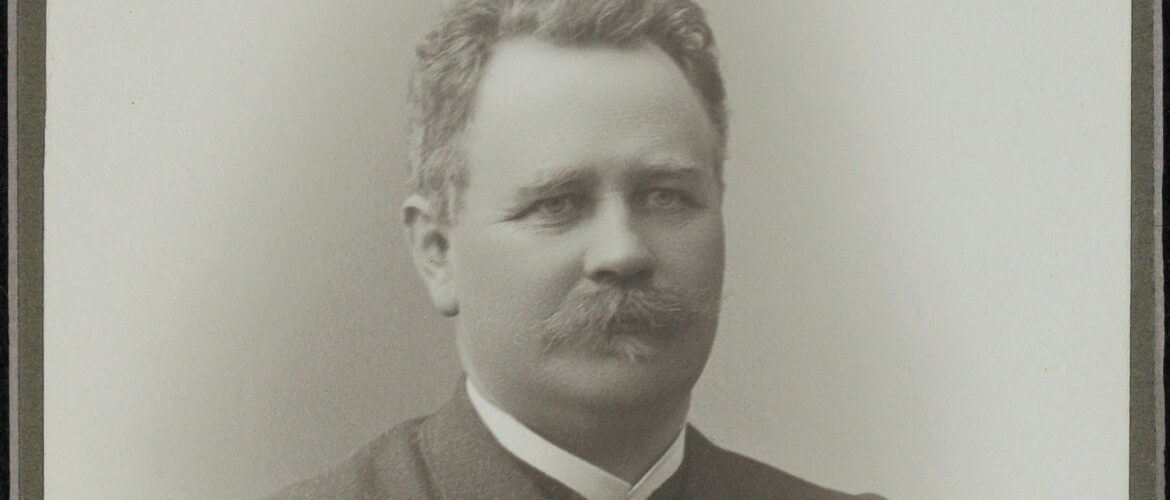 1859–1933.
Manufacturer, entrepreneur.
In 1885, the merchant Hjalmar Söderberg opened a yarn, sewing and fabric shop at Vaksalagatan 13 (where the town hall is today).
The movement was expanded and moved to larger premises on Vaksalagatan 15 and already in the 1890s began production of wool fabrics and clothing. In 1896, the industrial business moved to Dragarbrunnsgatan 65 (the corner of Dragarbrunnsgatan-Kålsängsgränd) and the company developed into the largest in the clothing industry in Uppsala and one of the larger ones in Sweden.
In 1907, a special company was formed for the clothing company named Hjalmar Söderberg, Herrkonfektions- och Ekiperingsaffär. His son Erik Söderberg took over the management of the company in 1933 and in the 1940s the number of employees in the company, which then had branch factories in Lövstabruk and Örbyhus, was between 500-600 people. In 1958, the company was declared bankrupt.
Hjalmar Söderberg's wife Elin (1861–1933) was honoured by her son with a sculpture adorning the burial site. The sculpture was made by the artist Arvid Knöppel and illustrates the Bible word in Book of Psalms Psalt. 126:5 "They that sow in tears shall reap in joy."
Burial site: 0131-1366
Image descriptionManufacturer Hjalmar Söderberg, Uppsala 1903. Photo: Anders Larsson / UUB [The image is cropped].
Click here for an uncropped image